Ha Giang is known for the majestic landscapes, terraced rice fields and buckwheat flowers covering the hills with purple surface. Moreover, the ethnic cultural identity of the highlands region is also the aspect that attracts tourists from everywhere to Ha Giang. As a result, trips from Hanoi to Ha Giang are increasing day by day. In this article, Dixere.vn will share to you some must-know information for traveling to Ha Giang.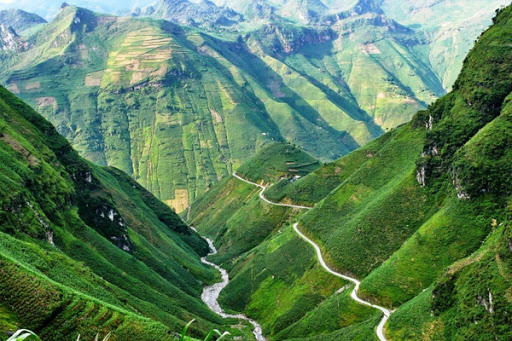 THE BEST TIME TO TRAVEL FROM HANOI TO HA GIANG
Ha Giang is beautiful all year round, you can travel from Hanoi to Ha Giang at any time of the year. However, to discover the beauty of this rocky plateau, you should come to Ha Giang at the following times.
1. January: Peach blossoms, plum blossoms and rape flowers
When the spring comes, from Quan Ba (Quyet Tien, Minh Tan), Yen Minh (Lao Va Chai, Na Khe, Bach Dich), Dong Van (Pho Bang, Pho Cao, Sung La, Sa Phin, Thai Phin Tung) , Meo Vac (Sung Tra, Sung Trai, Lung Phin), peach blossoms, plum blossoms and rape flowers are blooming everywhere, togerther with the black stone foundation of the rocky plateau and with the and traditional house of Ha Nhi ethinic people. 
⇒ See more: Traveling from Hanoi to Mai Chau and the transportation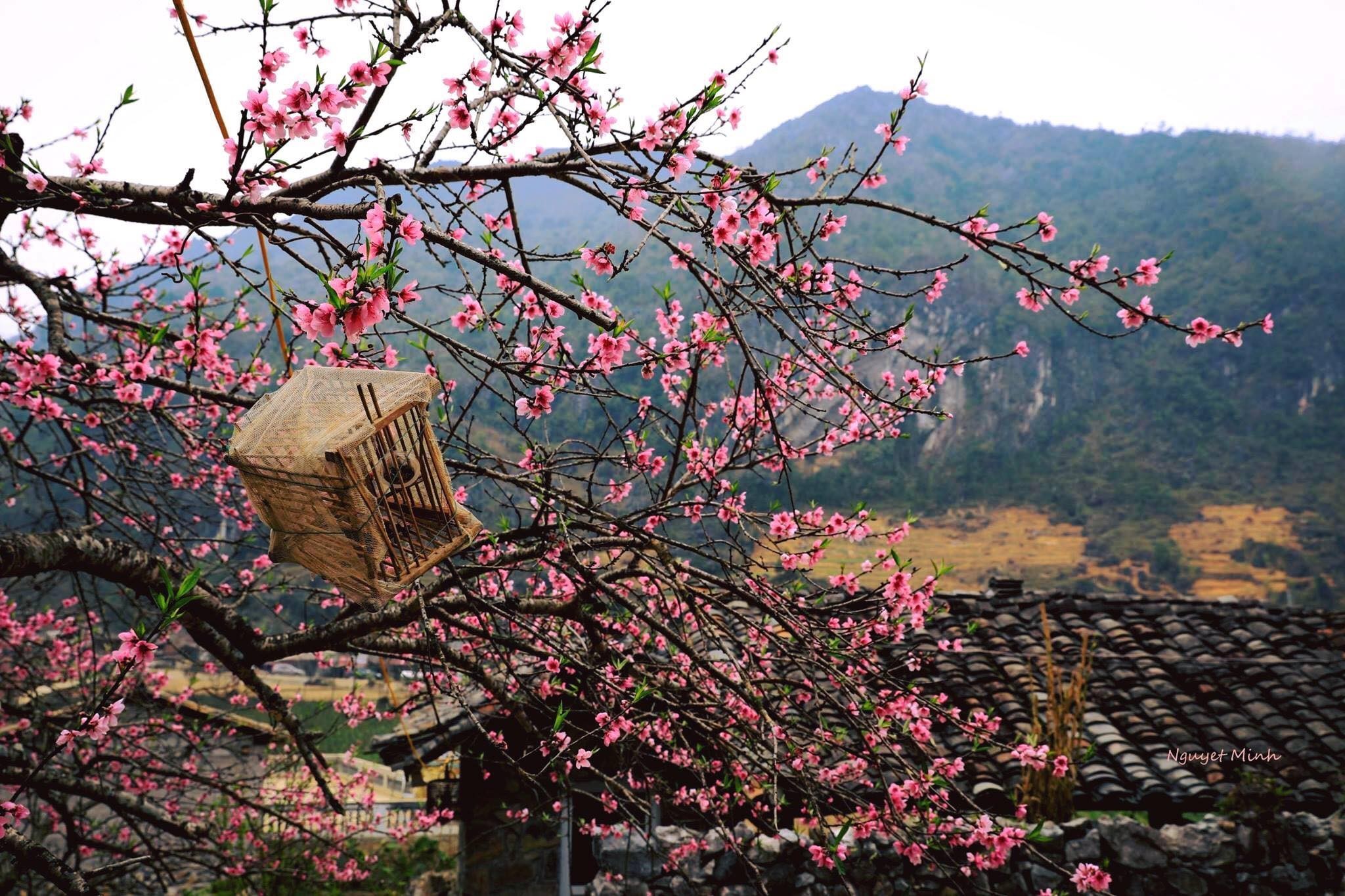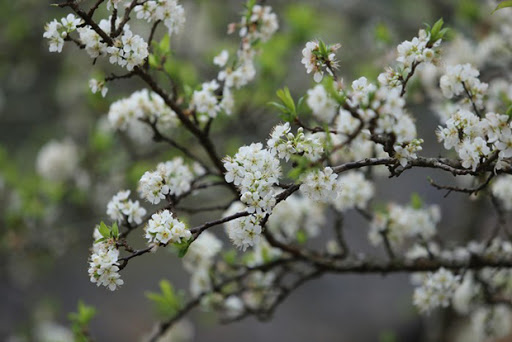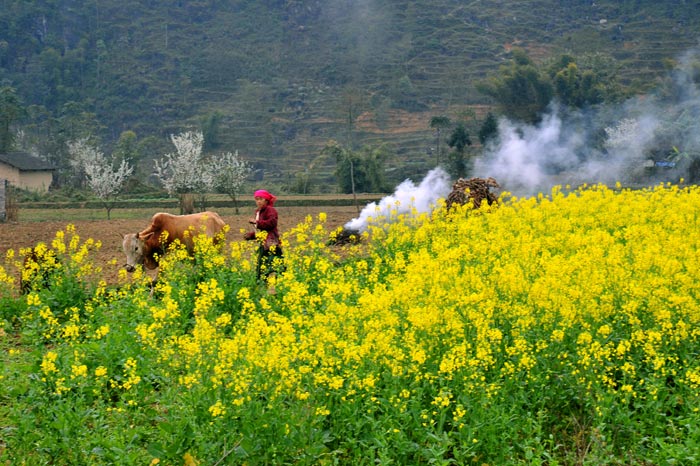 2. April and May: Pouring water season
In the pouring water season, most of Northwest fields are poured in around May – June, few places in July. Some plots can accumulate water from April. The most beautiful is in the middle of transplanting, between May and June.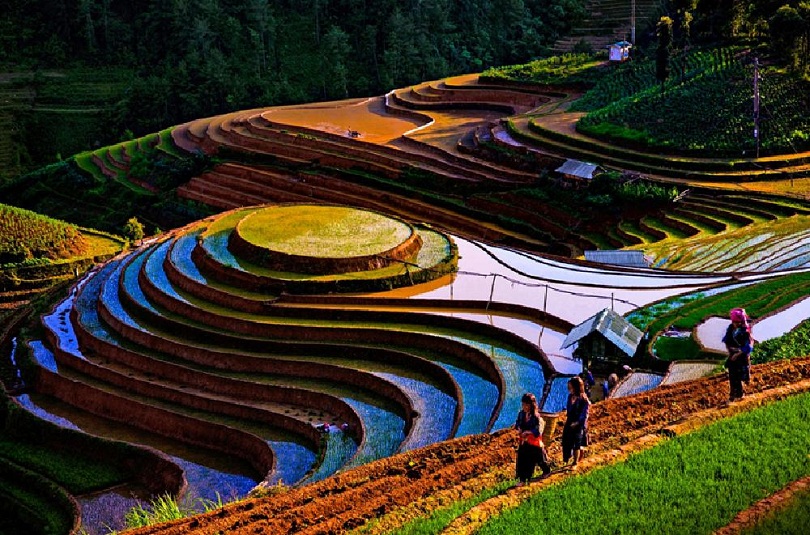 To Ha Giang, visitors can see the picturesque rice fields in the flooding season. Hoang Su Phi, the twin mountains of Quan Ba. Or the small fields dotted along the road of happiness, Ma Pi Leng …
3. September and October: The season of rice ripening
From September to October, autumn atmosphere arrives in the Northern Area. The terraced rice fields and valleys at the foot of the pass are covered with a picturesque yellow mantle in this land of the country.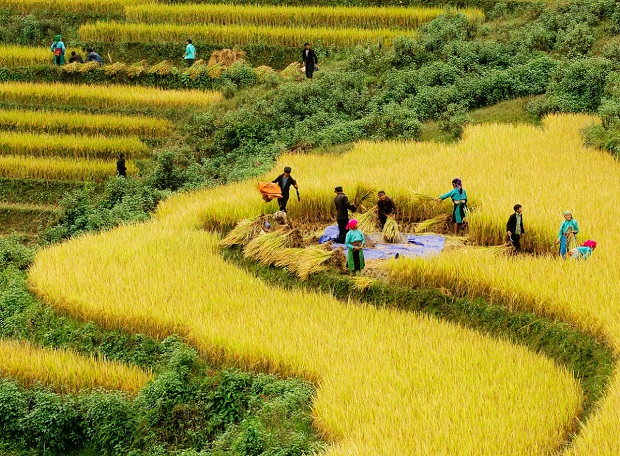 4. October to December: The season of buckwheat flowers, the most beautiful time in Ha Giang
Every late October, until December, people pulled together to Ha Giang to see the buckwheat flowers. The purple buckwheat flowers spread over the hillsides. Recently, during the blooming season, there is the Buckwheat Flower Festival expected this year to be held in mid-October.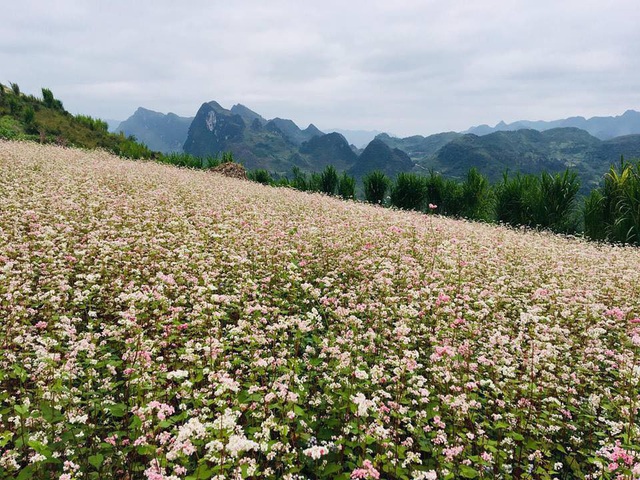 Suggested Hanoi to Ha Giang routes as follow
Route 1: Hanoi – Vinh Yen – Viet Tri – Doan Hung – Phu Tho – Tuyen Quang – Ha Giang.
Route 2: If traveling by car, you can follow the freeway Noi Bai – Lao Cai, to the section of Tuyen Quang City, turn right and then go to Ha Giang.
TRANSPORTATION FROM HANOI TO HA GIANG
To get to Ha Giang, there are many different means of transportation for you to choose. In particular, the limousine VIP is the type of vehicle currently chosen by many people because of the convenience and the price is quite suitable with the quality of service.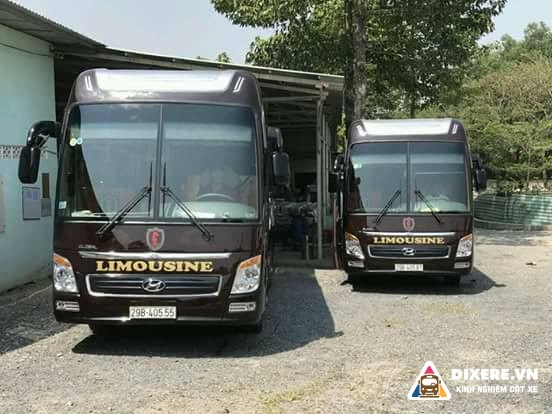 Adam Viet
Limousine VIP is a prestigious car service of Adam Viet Brand Development JSC. Adam Viet is known by many customers for its professionalism, experience and dedicated service.
VIP Limousine Hanoi to Ha Giang are high quality cars with extremely comfortable seats. Not only those seats do not cause discomfort and fatigue while on long-distance rides, but also they provide more energy for your upcoming journey. 
Since many passengers in the car causes a cramped atmosphere, an enough space with 12 seats on a VIP Limousine will bring more comfort and a feeling of spaciousness and relaxation.
Do not pinch and cram passengers
VIP Limousine is a high quality car line. One car only carries the maximum number of passengers as prescribed. Adam Viet always fulfills its commitment: each passenger has a seat, does not carry more than the prescribed number of people, does not cram guests.
Journey through, without interruption
VIP Limousine Cars will not stop, catch and drop passengers along the way which cause unsafe situations and passengers' frustration. On the other hand, helping passengers transport on the right schedule to their desired destination on a fixed time duration.
No increase in ticket prices on holidays and Tet
On the occasion of Tet, the demand for passenger travel skyrockets. Taking advantage of this situation, many transportation service companies often take advantage of "tight guillotine" customers. They doubled or even tripled their fare, making customers extremely frustrated. Adam Viet commits not to increase ticket prices on holidays and Tet not only for tickets of cas from Hanoi to Ha Giang, but also other tickets.
Full range of amenities
19-inch LED TV.
High-end Sony sound system, extremely good music.
High-end LED lighting system, high-speed free wifi, USB port to charge mobile devices …
Free drinking water and cold towels.
The 19-seat limousine cars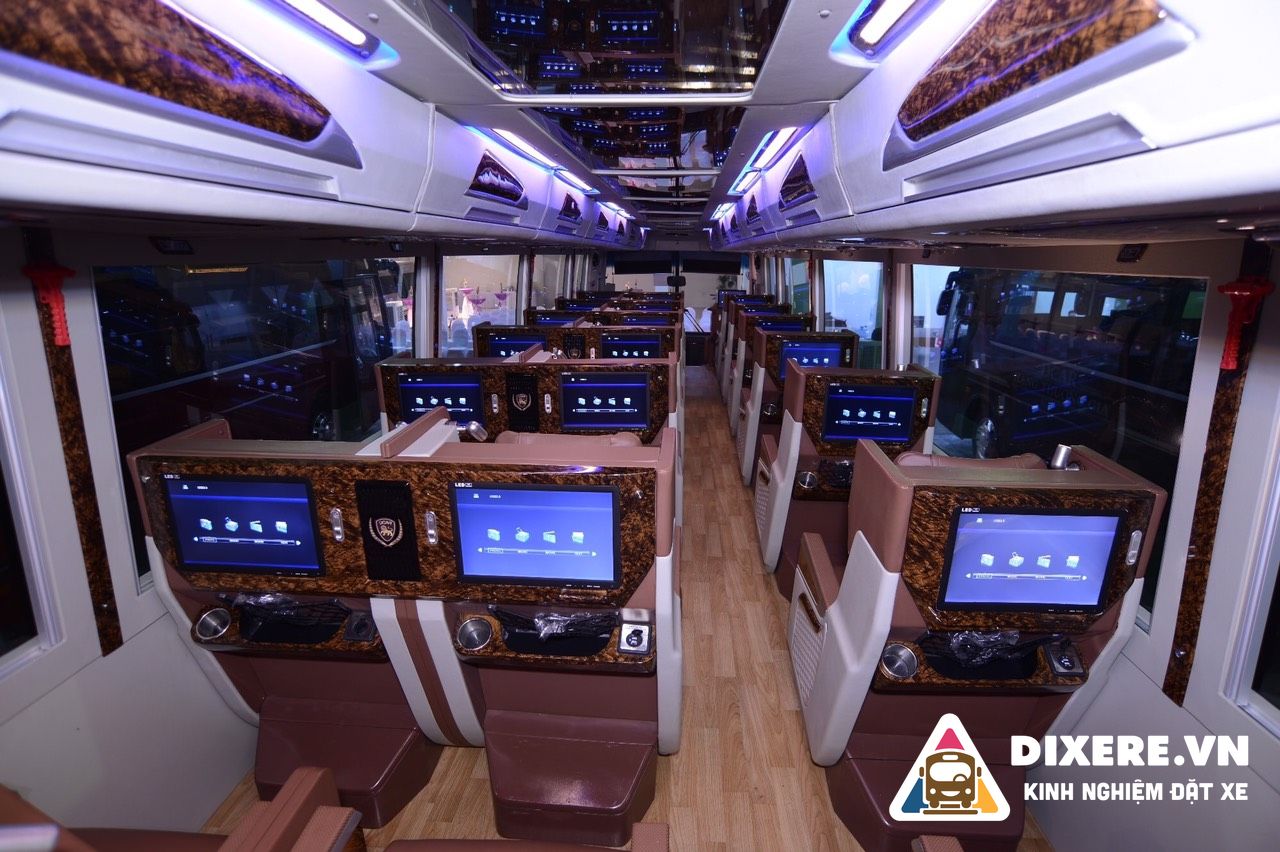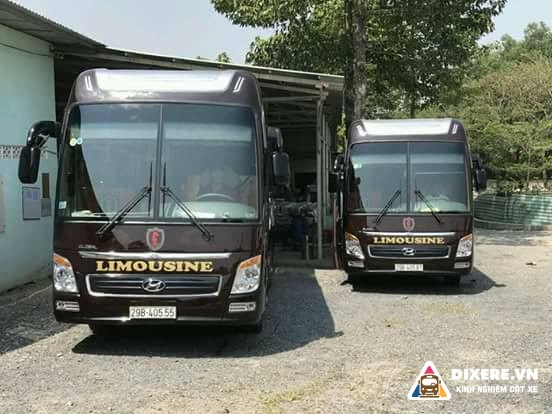 The 19-seat limousine cars from Hanoi to Ha Giang provide luxury and classy atmosphere. Spacious car compartment, luxurious car interior, fully equipped. The smooth car seats provide a great experience. Top-notch entertainment facilities on the car such as LCD screen, wifi, sound system … serve customers who are successful businessmen or take VIP staff.
Cabin sleeper coach bus
In addition to the 19-seat limousine cars, cabin sleeper coach buses are a new line of high-end coach buses for trips from Hanoi to Ha Giang. This is the newest and most advanced coach bus line on the Hanoi to Ha Giang route.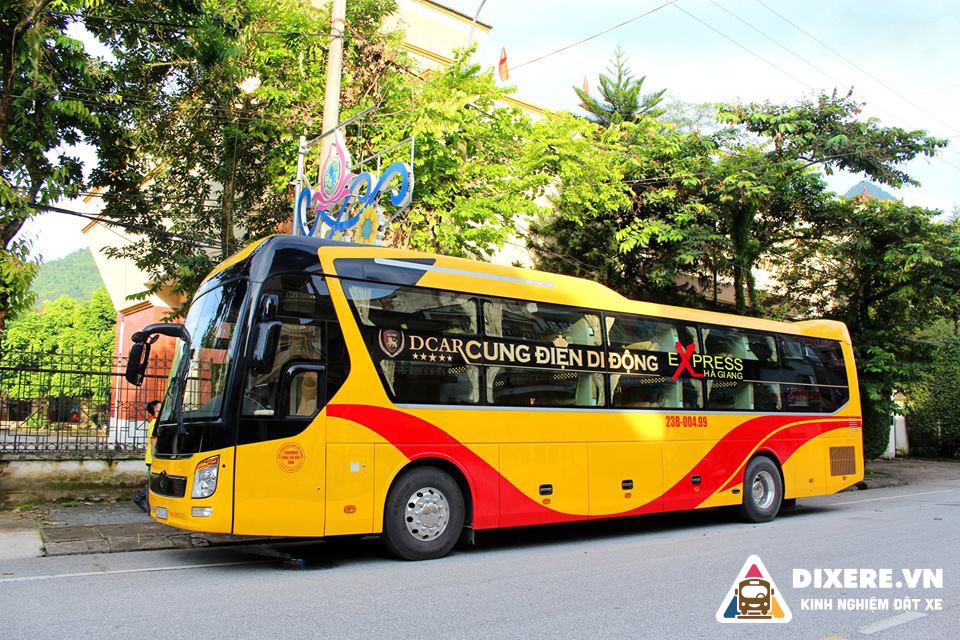 The cabin coach is separated with 22 cabins. The interior is reduced by the number of seats to create a well-ventilated space. Many conveniences are integrated such as phone charging port, separate reading light, high quality leather seats, sound system, high quality image.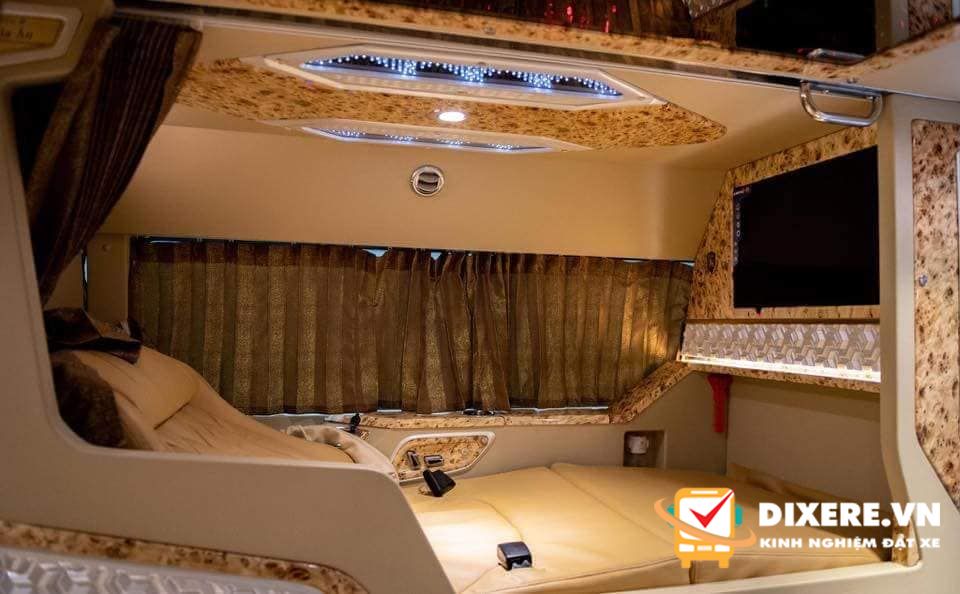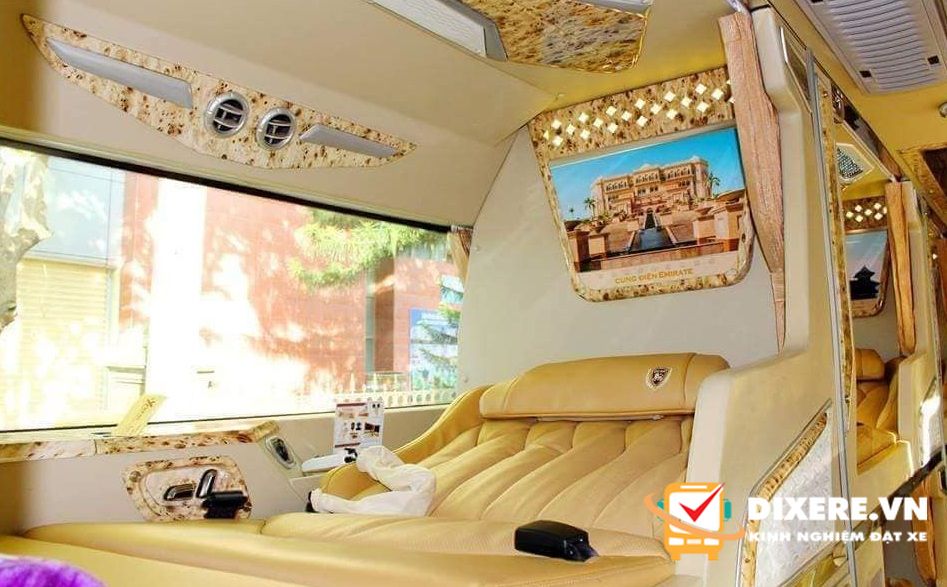 There are 2 floors in the coach. In particular, the lower floor cabins are 1.8m in length and the upper floor ones are 1.9m long. They are suitable for both Vietnamese and foreign passengers. The width of cabins are half more than regular sleeper bed size. Moreover, warm lighting with amenities creates a private space for each customer. Each cabin bed can be easily lifted and lowered with seat belts provided.
⇒ See more: The most common most of transportation for trip from Hanoi to Sam Son
HOW TO BOOK TICKETS ON TRIP HANOI TO HA GIANG
There are many choices for passengers to move to Ha Giang. However, each form is suitable for different situations. For a quality trip, passengers should consider choosing and booking a travel ticket that is appropriate for their own itinerary and circumstances.
Therefore, to be guaranteed the best interests, you should book Hanoi – Ha Giang tickets through a reputable agent like Dixere.vn on 24/7 hotline 1900575725 – 0989854199. If you have not known the appropriate transportation means from Hanoi to Ha Giang, our operators will assist and advise you for a better experience. 
In addition to always enjoying a more preferential price than the genuine price and guaranteed 100% reservation, at Dixere.vn, customers are also provided with full information and images of each option to Ha Giang.